Amsterdam is divided into two by the IJ. You have Amsterdam and you have Amsterdam Noord. Noord borough council has an English-language website.
There are some nice bits in Noord. Cycle or stroll down the Nieuwedammerdijk (there are a couple of cafés at good stopping off points) and you can forget your are supposed to be in some great metropolis. Parts of the Tuindorp (garden village) development, built in the mid-1920s, are a national monument.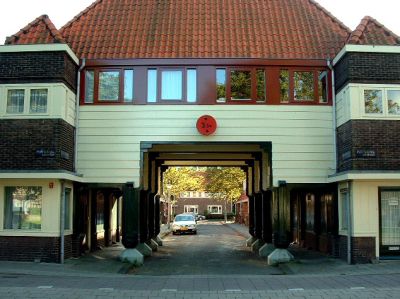 The Purmerplein entrance
Noord used to have a bad reputation, but it is improving as south of the river dwellers make the crossing in search of cheaper family homes. The coming of the new metro link is pushing up property prices close to where the metro stations will be built.
Outside the city itself at the other side of the A10, the villages of Durgerdam, Ransdorp and the like very much hark back to a rural Holland. There's a decent cycle route round the whole area - about 40 km all in.