Amsterdam's last working sawmill, the Otter, is open to the public when the flag is flying, usually on a Friday afternoon when the wind is stronger than force 5. The mill is currently at the centre of a legal battle over council building plans which the mill's supporters say are taking away the wind.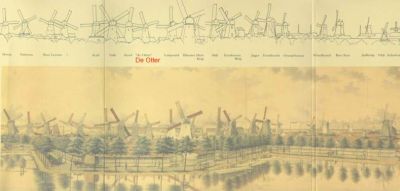 The Otter in Amsterdam's first industrial estate
The Otter, built in 1631, was one of 11 sawmills concentrated in the west of the city, just outside the walls. It was, in effect, Amsterdam's first industrial estate. By 1870, there were 50 sawmills on the site producing timber largely for the shipbuilding industry. But by 1930, most had been demolished and the Otter had been abandoned.
In 1991, the mill's owners, timber yard De Bijl, which has operated on the site since 1817, handed the Otter over to a trust and in 1996, after a 300,000 euro restoration project, the Otter's sails began turning again.
The mill is now embroiled in a battle about access to the wind with Westerpark borough council. The miller says that building so much new housing will block off the wind, and effectively kill the mill. Apparently, woodworm don't like the creaking sound that turning sails make. There is a campaign under way to move the mill to a more windy location, but the local council has vetoed the idea.
Gillisvan Ledenberchstraat 78