The best place in town to go to the movies. An Art Deco masterpiece which has been lovingly preserved. All Dutch film premieres take place here and you can see why. The semi-circular main auditorium is stunning. Pay a couple of euros more than the normal ticket price for a box and you'll not only get more leg room, but a glass of champagne as well. Luxury. If you don't want to catch a film, there are guided tours on Monday mornings.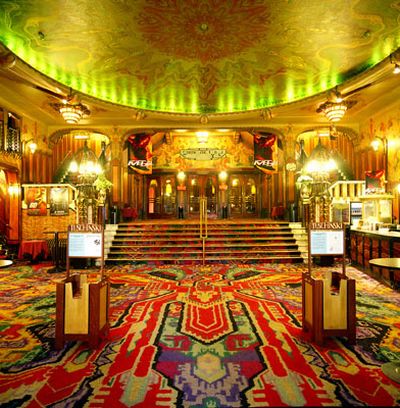 Yes, the foyer really does look like this
(While the Dutch use subtitles for foreign films, cartoons tend to be dubbed, so if you're heading for Shrek 43, make sure its the right version).

Regulierssbreestraat 36-34
website (Dutch only)
A brief history:
When the tailor Abraham Tuschinski, on his way from Poland to the United States stopped off in Rotterdam, he decided to stay to open a cinema. His first, in Rotterdam's Coolsingel, opened in 1911. He then bought a very cheap piece of land in an Amsterdam slum neighbourhood - known as the Duivelshoek (Devil's corner) - and in 1921 the 26 metre twin-towered Tuschinski opened to the public with the film "The Old Nest".
Designed by Heyman Louis de Jong with the artists Chris Bartels, Jaap Gidding and Pieter de Besten, Tuschinski's theatre was a revelation. Until then Amsterdam's cinemas had been sombre places and Tuschinski's caused a minor revolution with its rich interior, wall silk hangings and carvings, forcing other cinema owners to redecorate in order to win back lost trade.
When the marked its 10th anniversary in 1931, Arthur Loew, the managing director of Metro Goldwyn Mayer, wrote in its celebratory brochure that through Tuschinski's efforts "the city of Amsterdam led Europe in presenting the best of cinematography in a beautiful structure under the most cheerful and comfortable conditions." Joan Crawford, Greta Garbo, Buster Keaton and Marion Davies were among the signatories to a telegram describing the Tuschinski as "one of the world's foremost cinemas" and saying "long may your leadership continue". During its heyday artists to tread the boards in the main auditorium included Marlene Dietrich, Edith Piat and Judy Garland, and there are still concerts there today.
Today, owned by Pathé and converted into a multi-screen cinema, the Tuschinski is still a stunning example of Art Deco and the Amsterdam School. The building, both inside and outside has been well preserved, and great attention is paid to detail. In 1984 a new carpet for the entrance hall was hand woven in Morocco, following the original design exactly, including the Polish eagles as a reference to Tuschinski's origins.