A compendium of things to know, things to do, places to go and people to see:
» Contact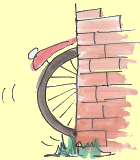 « Previous | Main | Next »

Amsterdammers: Hendrick [July 5, 2009]

Hendrick has flowing dirty blonde hair which waves past his ears in an arty sweep. He is not tall, but he has presence, helped by fine-cut clothes and a well-tailored camel-coloured overcoat in winter.

He smokes French cigarettes and although raised to be polite, often shows boorish behaviour, especially by badgering waitresses and shop staff. He eats out most nights in trendy city centre restaurants even though he is getting a bit old for some of them. He is usually tipsy at the end of the night.

Hendrick runs a PR company, thought no-one seems to know exactly what he does apart from attend openings and occasionally feature in the gossip columns. Most assume he has family money. He drives a black SUV which he parks where ever he likes.

Hendrick lives in a large apartment on the Keizersgracht, which he shares sometimes with girlfriend Mariske and a cat she bought him. Mariske is 20 and a second-year history of art student at the University of Amsterdam. She has long blonde hair and likes to prance around the flat in skimpy tops and tiny denim skirts.

Hendrick does not have much to talk to her about - she knows nothing about footbll for example - but she looks good on his arm at parties. But he was terribly embarassed when she brought a bunch of her blonde student friends to a restaurant launch and they addressed all his friends as sir.
The latest news from the Netherlands