A compendium of things to know, things to do, places to go and people to see:
» Contact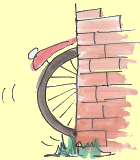 « Previous | Main | Next »

Rain [August 28, 2010]

Back from a short holiday in sunnier climes and I am immediately praying for an Indian summer. This is so depressing.

Mind you, it always rains at the Uitmarkt, the launch of the new cultural season in Amsterdam. It's like a bad joke every year.

This year there as been so much rain the water level in the canals is 17 centimetres higher than normal. So watch out taking your boat under that bridge. You've got less room than you think.
The latest news from the Netherlands