A compendium of things to know, things to do, places to go and people to see:
» Contact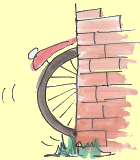 « Previous | Main | Next »

Mulled wine wars? [November 23, 2010]

The Dutch never used to be very big on Christmas - a roast hare or a piece of venison with the family and perhaps a tree is as far as it used to go.

But being experts at making a quick buck, how could Christmas remain unsullied for long? Now you can't escape it - although we always have the row about Christmas tat appearing in the shops before the Sinterklaas stuff has been put away.

Now it seems Amsterdam is going overboard to make a few extra euros - sorry, enjoy the Christmas spirit.

According to Tuesday's Parool, the city is about to become embroiled in mulled wine wars, with both the Rembrandtplein and Leidseplein hosting their own Christmas markets. But whereas the Rembrandtplein event will run until January 2, poor old Leidseplein's permit to sell alcohol expires in 12 days.

Both squares also host a natty little mini ice rink and, of course, the obligatory garden sheds tarted up as snow-covered chalets. Renting one on the Rembrandtplein will cost you just over €4,000 for the six weeks - a nice little earner for someone at any rate.

Quite why Amsterdam thinks these tacky copy of a German Christmas market will prove a massive draw to winter tourists is anyone's guess. Fortunately real snow is apparently on its way to give a little taste of authenticity. Perhaps we'll get a blizzard to bury it all.
The latest news from the Netherlands