A compendium of things to know, things to do, places to go and people to see:
» Contact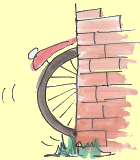 « Previous | Main | Next »

It's a slippery slope [December 22, 2010]

Tried cycling in Amsterdam over the past few days?

Wondered why cycle lanes have turned into skating rinks having been completely ignored by the gritters?

It's all down to those waste of space borough councils, of course, according to local tv station AT5.

Apparently, Rotterdam city council has a policy of ensuring all roads and cycle lanes are gritted to reduce the problems caused by ice and snow, but Amsterdam does not.

In Amsterdam, the city council is responsible for keeping main roads clear but cycle lanes and minor roads are the responsibility of borough councils.

The snow has become so solid on the capital's cycle lanes that it now needs to be chipped off by hand but there is no one available to do the work, AT5 says.

I can think of a few borough council officials who could become available....
The latest news from the Netherlands