A compendium of things to know, things to do, places to go and people to see:
» Contact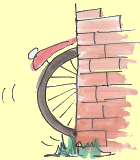 « Previous | Main | Next »

Secret camp [April 15, 2011]

Today on the train heading for Schiphol airport, I noticed eight or nine tents or temporary shelters made from plastic in the trees bordering the railway tracks just past the Westerpark. Some were throw-up tents, others were tarpaulins slung between trees. People are living there...
The latest news from the Netherlands