A compendium of things to know, things to do, places to go and people to see:
» Contact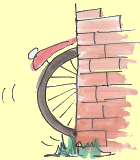 « Previous | Main | Next »

Baby blackbird becomes cat's lunch [June 24, 2012]

Last year we spent a couple of days in spring trying to protect a baby blackbird which had obviously been attacked by something - mangled wing and missing tail feathers - and kept hanging about in our geveltuintje.

It had several narrow escapes with cars, so it was with some surprise we realised in the late summer, our old friend turned up in the back garden, singing his heart out far too early in the morning. We know it was him because of the scruffy tail and white bits on one wing. He quickly became known as the mutant.

This spring the mutant was busy building a nest under our balcony, while continuing to sing his heart out at 5am. He eventually found a wife who obviously approved of the balcony location. A few days ago, two big fat fluffy babies appeared in the garden, sitting in the mock orange tree and screaming for food.

It all felt a bit like a tv nature documentary, watching their efforts to fly and the parents efforts to feed them. Yesterday, alas, one of the babies became a light snack for the neighbour's cat, which filled her ground-floor flat with feathers.

Perhaps not quite the lion killing the zebra, but enough of a bloody incident to erradicate the 'aaah' factor and remind me nature can easily outdo nurture.

Mutant, mum and remaining baby have not been seen since the incident happened, although this morning I heard him singing at top volume as the sun came up.
The latest news from the Netherlands