A compendium of things to know, things to do, places to go and people to see:
» Contact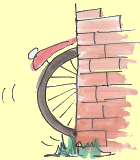 « Previous | Main | Next »

Amsterdam's pseudo police officers told not to swear [July 19, 2012]

Oh decorum! Amsterdam's mayor Eberhard van der Laan has made amendments to the charter for the city's police and those other civilian law and order enforcers to stop them swearing at people they are trying to arrest.

Those officious folk with handcuffs and batons and wearing jackets emblazoned with slogans meant to convince us they are proper police officers are also to be given proper lessons at how to put on handcuffs and to deal with crowd problems, Van der Laan says.

The measures follow the 'arrest' of an Italian tourist at Amsterdam's central station earlier this year. The man was cycling where he shouldn't - as we all do - and refused to cooperate with the fake cops - an incident which ended up in a fight.

The whole thing was filmed by various passersby, which also annoyed these pseudo police officers. Here's the film again.

Mind you, judging by the performance of the real cops, they need some lessons as well. The mayor says he regrets the poor impression of the Netherlands this film has given. As well he might.
The latest news from the Netherlands