A compendium of things to know, things to do, places to go and people to see:
» Contact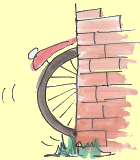 « Previous | Main | Next »

Just how tolerant is Amsterdam? [August 15, 2012]

Well, we've certainly got our opinions about acceptable behaviour on the streets, according to Wednesday night's Parool.

Spitting is considered unacceptable by 88% of Amsterdammers, 72% object to men scratching their crotch and 67% to people picking their noses.

Sitting on a terrace shirtless is objectionable according to 52% while cutting your nails in public is considered not okay by 49%. Interesting one that... don't think I've ever seen anyone doing it.

Then comes our attitudes to homosexuality. And yes, how tolerant we are. The survey shows 45% object to two men kissing and 41% to two women being affectionate. But 38% don't like seeing heteros kissing either...

After that comes builder's cleavage - which 35% think is not done. There is also disagreement about topless sunbathing. Some 22% of the under 35s object to it, compared with just 6% of the over 50s. How times change.

The survey was done to coincide with tonight's 'Kiss In' on the Hugo de Grootplein, organised by photographer Erwin Olaf who became embroiled in a row at the weekend after kissing his boyfriend after a jolly dinner on the terrace at Razzmatazz. The couple were shouted at by the neighbouring snackbar owner and his wife, prompting Olaf, who is a hothead, to let rip.

The snackbar owner and Olaf have since made up - shaken hands I should say - but the Kiss In is going ahead later this evening. I've just been round to check. All the terraces outside are bulging with people dining out and drinking, even the snack bar at the centre of the row. All's well that ends well.




The latest news from the Netherlands