A compendium of things to know, things to do, places to go and people to see:
» Contact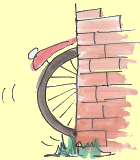 « Previous | Main | Next »

Amsterdam to press on with closure of 26 red light coffee shops [December 7, 2012]

The cabinet may have dropped its plans to impose the wietpas on Amsterdammers, but the city council is still going ahead with the closure of 26 coffee shops in the red light district, according to the Parool.

There are, apparently 76 coffee shops in the Wallen and if the new rule to close all those within 350 metres of a school was implemented, only 21 would be left open.

Now that plan has been dropped as well, mayor Eberhard van der Laan has decided to press ahead with closing 26 which had been already earmarked for closure under the city council's plans to clean up the area.

Confused? Us too... but what it would seem to mean is coffee shops which were reprieved because the mayor was worried there would be hardly any coffee shops left are to be given the chop after all.

It still means 50 will be left open... not bad for a tiny little part of town and quite enough to serve the needs of the locals...
The latest news from the Netherlands