A compendium of things to know, things to do, places to go and people to see:
» Contact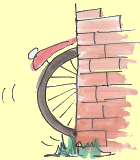 « Previous | Main | Next »

Amsterdam's population hits 800,000 [December 2, 2012]

The population of Amsterdam has now reached 800,000, following the birth of Alex Lucas Westerbos, according to the capital's Parool newspaper.

Young Alex is 'so relaxed' which makes him 'a real Amsterdammer already', mayor Eberhard van der Laan told the Parool, after delivering a bunch of flowers to the new parents.

Like many, many Amsterdammers, Alex's parents are 'imports' because they came from Groningen and Brabant to study here and ended up raising a family, says the Parool.

There's something a lot nicer about being described as an import than an immigrant...

Still, thanks to all of us imports and our children, the city's population is back on its way up, after shrinking to as low as 675,000 in 1985. But we've still some way to go before reaching the 1959 record level of 875,000.

Get breeding.
The latest news from the Netherlands