« Previous | Main | Next »

Are Amsterdam's slowest waiters in Azur Bleu? [April 7, 2013]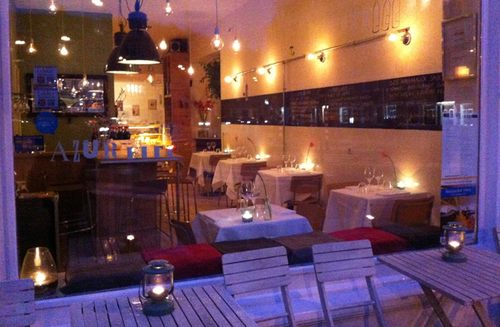 We are a bit spoilt for choice about where to eat near us - lots of restaurants with every sort of food and a couple that really stand out. Azur Bleu was given 9+ by the mighty Johannes van Dam when it opened and well deserved it was.
We've eaten there four times. The first it was well worth its 9+. The second time we went with six people and they only told us after we had ordered that we could not have most of what we wanted because were with a big group.
The third time the crew and their mates started smoking at a table while we and other guests were still in the room and the fourth - and last - time was this weekend.
To start, the service was so so very very slow. We had to ask three times to get a glass of wine. It took 40 minutes to get the menu and another 15 to order.
The food itself was good in parts. The fish soup as fabulous as ever, the wild duck pate v. nice. But the main courses - well the lobsters were over-cooked and soggy, said the lobster eaters, the vegetables with the veal steak were cold (maybe they were meant to be a salad?) and the halibut was a bit on the mean side for €22.
They also forgot to bring our second bottle of wine until we reminded them several times and had almost finished our main course. We then sat in front of our empty plates for god knows how long.
Our mates had to leave before pudding. We had coffee and a brandy, but the brandy was in a short glass 'because they did not have any clean brandy glasses left'. Weird as no one around us was drinking brandy but there you go.
All in all, mwuh... shame shame shame shame. The only good thing was they also forgot to put the second bottle of wine on the bill. And I decided not to remind them. Don't suppose they'll notice anyway.
Last week a new Suriname take-away opened up round the corner. €12 for a roti speciaal enough for two. Perfectly fine food and no slow slow waiters.