« Previous | Main | Next »

Whack up the parking fees, chop down the trees [February 9, 2014]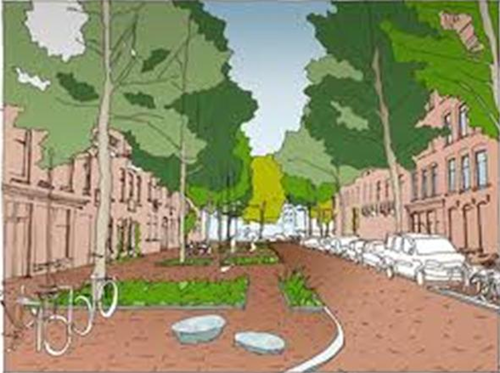 An artists impression of the lovely new car-reduced Westerpark area - what are those odd stones doing there?
So there we were, a bit of late night television zapping at the end of January, and we stumbled across what now transpires to have been a crucial city council meeting agreeing to put the cost of our parking licence up by 75%.
We were not quite sure what it was at first, given the shambolic proceedings and ajournments and whisperings but yes, it soon became apparent this was the great day the VVD in Amsterdam shafted the good folk of Amsterdam West.
We already knew the PvdA and GroenLinks were not to be trusted, but that the VVD has now decided we should pay towards building an underground car park which will not lead to any more parking spaces is bizarre in the extreme.
But from this year, we are now paying €136 for a six month licence to park our car, and it will go up 25% next year and the year thereafter.
The reason why the good folk of Amsterdam West have such high parking fees is to pay for the lovely new car park which is going to be dug under the Singelgracht.
I've written about it before, but to sum up: the city plans to dig this hole in the ground for 800 cars for a cost of €60m and then remove spaces above ground. The aim is to create more green and open spaces in the city. In our case, this involves chopping down rather a lot of beautiful old plane trees and replacing them with sad playground equipment for toddlers which will soon get taken over by teenagers avoiding their chemistry classes.
We all know that any Amsterdam construction project ends up costing at least double the original estimate, so god knows how much our parking fees will be by the time the project is finished.
What we do know is that we will be paying almost twice as much money to park our car further from home in an underground car park with only camera surveillance. And that is not to mention the impact the construction project will have on the foundations of our home or water levels. Local councils - don't you just love them.
So once all our cars have been forced into the gloomy depths what will happen above ground? At the end of last year I went to a meeting to find out.
It was full of lovely power point presentations showing us how overcrowded and messy our streets were, presented by motivators and architechts and the like.
Then we were divided into groups to sit at tables and make our own plans. We were in a group of seven, equipped with a large map and some felt pens. It soon transpired all was not as it seemed. Some of our group were suggesting closing entire streets off to traffic and bringing in one-way systems.
So I asked how many of the seven of us actually worked for the council or had connections to the redesign project. It turned out five of the seven did. So our group was stoked with pro car park folk asking leading questions about trees and bikes.

Needless to say, I was not asked to join the resident's committee to finalise the plans.