A compendium of things to know, things to do, places to go and people to see:
» Contact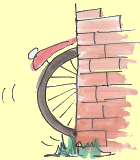 « Previous | Main | Next »

Our garbage pile is getting wider as well [June 18, 2014]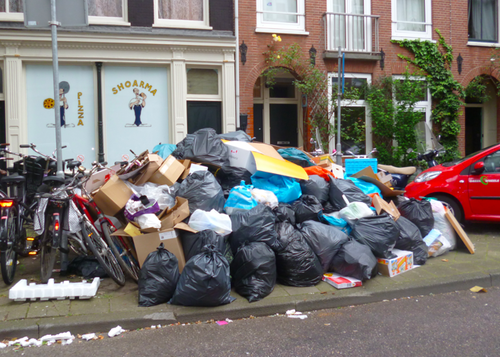 So this is how it looks this afternoon. Among the new additions to the heap are one of those silly little suitcases on wheels, bits of a bike, some plastic children's toys and a lot more empty cans of cooking oil.
No fights with the neighbours to report today... but we have had a visitor from the local healthboard who was, apparently, shocked at the amount of waste from restaurants on our lovely mountain.
He has promised to write it all up in his report. Not that he can promise anything, you understand. It's all up to his boss.
One of the girls from our block was forced to dig out her bike this morning, which had been knocked over under the weight of cardboard boxes.
The strike is supposed to end tomorrow and the powers that be will be sending out extra groups to clean up the mess. Our pile is so big it will probably fill one lorry.
And then, when it is all clean and sparkling again, someone will forget to mend the broken container so people will not be able to put their garbage into the ground So they will start leaving their bags next to the container and the pile will begin building again.
Perhaps its just as well. The garbage mountain has become so much a part of our lives that we would probably miss it. But not the smell.
The latest news from the Netherlands