A compendium of things to know, things to do, places to go and people to see:
» Contact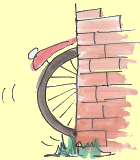 « Previous | Main | Next »

Ready for the off [April 26, 2009]

Three days to go and our local bar is ready for Koninginnedag. Oh boy. This year the council is imposing new rules on boats - apparently there is a 35-page document with all the rules to make sure Koninginnedag goes off smoothly. So no boats over 10 metres long on the Prinsengracht, and no loud music and no beer on board - more than one can and you will be considered a dealer. Well that is all going to be perfectly enforceable is it not?
The latest news from the Netherlands