A compendium of things to know, things to do, places to go and people to see:
» Contact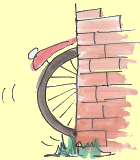 « Previous | Main | Next »

Red Light District tops over-rated attraction poll [September 7, 2009]

Amsterdam's Red Light District is the most over-rated tourist attraction in the country, according to visitors to website Z24. Some 22% of readers voted for the Wallen, with its 'dirty streets, drunken tourists and sad women behind the windows', the website said. Second on the list was Madame Tussauds waxwork museum and third a canal boat trip.
The latest news from the Netherlands