A compendium of things to know, things to do, places to go and people to see:
» Contact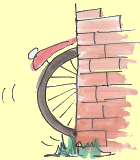 « Previous | Main | Next »

A comeback for Rob Oudkerk? [September 9, 2009]

Oh boy. The Telegraaf reports that Rob Oudkerk, the charming former city council official who was forced to quit after admitting consorting with street hookers several years ago, could be in line to head up the city's centrum borough council next year.

Els Iping, the rule-obssessed ijit who currently rules the roost is apparently going to stand down at the local elections next year.

That is good news at least.

But Oudkerk back? Please. The man blamed a 'substance' in his brain for his passion for a quickie with the sad cases (lots of rebuilt boys) who used to ply their trade in the western habour area.

And lest we decide to forgive the man for his dubious taste in sexual partners, we should not forget he is also the inventor of that choice little phrase 'kutmaroccanen' or 'c**t Moroccans' which has happily entered into everyday language.

Perhaps not the best candidate to carry on with the council's reforms of the red light district and build bridges between the city's various ethnic groups?
The latest news from the Netherlands