A compendium of things to know, things to do, places to go and people to see:
» Contact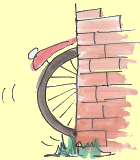 « Previous | Main | Next »

Happy 2010 [January 1, 2010]

It's a kind of pathetic start to the New Year when you are out watching millions of euros go up i smoke and discover the camera battery is out of power. So you are forced to take pictures of the rubbish left behind after the festivities to illustrate the first day of January 2010 instead.

New Year seemed quieter this year, but the display by businessman Joost Ritman at the top of the Bloemgracht was as fab as ever. Ritman, who made his fortune with disposable airline cutlery, does it every year, out of the goodness of his heart. And shows the city what a success an organised firework display can be. Thank you sir.

Wandered home through a few snowflakes and to bed. Woken this morning by gulls attaching the oliebollen some twit had chucked onto the roof of the shed at the bottom of the garden.

Happy 2010.
The latest news from the Netherlands