A compendium of things to know, things to do, places to go and people to see:
» Contact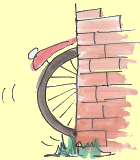 « Previous | Main | Next »

What's in a name [November 28, 2010]

Just rediscovered an old newspaper clipping from August which focuses on the new names which the Amsterdam tourist board has come up with to attract people to outside the city centre.

So, the eastern harbour area (Oostelijk Havengebied) becomes the Amsterdam Docklands with a focus on its modern architeture.

The Plantage and Watergraafsmeer become the Groene Plantage or Groene Museumkwartier - thanks to the zoo, botanical gardens and the Frankendael estate.

The Pijp is the Bruisende Smeltkroes - the bubbling melting pot. Oud West is Little Amsterdam - which the Parool goes on to say means it is similar to Notting Hill in London because it is picturesque, small-scale and a home and shopping paradise. Nothing to do with it being a smaller version of Amsterdam then?

Noord is Kinestisch Noord because it is becoming a creative industry hub. Sixth on the list is Westerpark, which remains Westerpark.

The tourist board's Hans Dominicus told the paper that he saw a future for Nieuw West and the Bijlmer as well. 'Where do people go in South Africa? To the townships,' he is quoted as saying.

Oh dear.

The latest news from the Netherlands