A compendium of things to know, things to do, places to go and people to see:
» Contact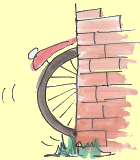 « Previous | Main | Next »

A bad chair day [July 25, 2011]

Forced to work to the office today thanks to a bike which had decided not to steer anymore. Well, at least the rain had stopped.

And even though it is not 'big garbage' collection day until tomorrow, I spotted one chair and a car seat waiting to be collected. Last week it was mattresses - at least four of them, all stained and limp. I just wonder where it all comes from.

Also came across a most odd funeral cortege, picking up mourners in the Marnixstraat. I say mourners but that was not exactly obvious. The driver, neat in dark grey tails, bowed as he opened the door to a ragtaggle of a family. One, a young girl, in a black dress, but mum in a bright blue flowery top thing and dad in a pale grey tracksuit. Perhaps its was the dress code?
The latest news from the Netherlands