A compendium of things to know, things to do, places to go and people to see:
» Contact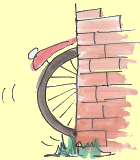 « Previous | Main | Next »

Amsterdam councillor owner of an illegal hotel? [November 16, 2011]

Can it be true? The front page of today's Parool states that VVD councillor Frank van Dalen is the owner of an illegal hotel on the Prins Hendrikkade, along the old waterfront.

The paper states Van Dalen owns the building where the hotel - Prince Hendrik Apartment Suites - is located. The building has been condemned by the fire brigade as unsafe, does not have a permit to operate as a hotel and yet is still open for business.

Van Dalen has apparently applied for a licence to have the building turned into a hotel, even though that would conflict with local zoning laws. An application to change the zoning laws is now under consideration, the paper says.

The city centre has now written to Van Dalen saying he has to meet fire regulations 'within a very short space of time' or the building will be closed down. He says the whole building is rented out to a company called Amsterdam Location which in turn 'rents it out to tourists'.

Van Dalen describes the whole situation as 'pure Kafka'. This Amsterdam wonders why we have fire regulations and hotel licences if people can carry on running a business without them.
The latest news from the Netherlands