A compendium of things to know, things to do, places to go and people to see:
» Contact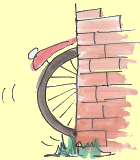 « Previous | Main | Next »

Amsterdam canals are dangerous [January 8, 2012]

Over the past three years, at least 51 people have drowned in Amsterdam's historic canals, according to a Telegraaf report.

The paper says just one death was the result of a crime. All the rest were accidental and often involved drunken men relieving themselves over the edge and falling in.

Experts are calling for more ladders and life rings to be attached to the quays, the paper said.
The latest news from the Netherlands