A compendium of things to know, things to do, places to go and people to see:
» Contact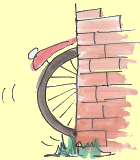 « Previous | Main | Next »

Council plans higher parking for big cars in Amsterdam [January 14, 2012]

The owners of large cars in the Amsterdam borough council of West will soon have to pay more to park their cars, the Parool reports on Saturday.

Next year, the borough council plans to introduce parking fees based on the length of the car. This means the owners of large cars will end up paying twice as much to park than the owners of small runabouts, the paper says.

Now all we need is action on wide cars so we don't end up on the pavement when cycling along the canals with an impatient SUV driver hot on our heels.
The latest news from the Netherlands