A compendium of things to know, things to do, places to go and people to see:
» Contact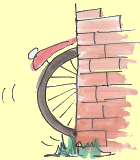 « Previous | Main | Next »

Internet killed the peep show star [January 23, 2012]

Amsterdam's red light district has just one peep show left - a live sex show where you put money in a slot to watch girls doing whatever.

It's all the fault of internet, says the 70-year-old owner of the remaining show who plans to continue operating until he is 83. Nice shots in the clip of a bin filled with used tissue paper. Charming.
The latest news from the Netherlands