A compendium of things to know, things to do, places to go and people to see:
» Contact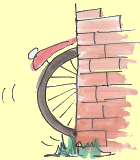 « Previous | Main | Next »

New taxi rules to cover the entire city [January 20, 2012]

Amsterdam council's new get-tough-on-dodgy-taxis campaign will cover the entire city not just designated taxi ranks in the city centre, says council executive Eric Wiebes in Friday's Parool.

The council had been planning to limit the new rules to taxis who used central station, the Leidseplein and 22 other top locations in the city centre - leaving the rest of us who live elsewhere to deal with the morons without proper approval.

'That may have been a wrong decision,' Wiebes is quoted as saying. Indeed.
The latest news from the Netherlands