A compendium of things to know, things to do, places to go and people to see:
» Contact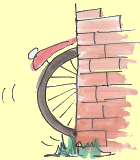 « Previous | Main | Next »

What to see the Ajax-AZ replay? Find a bunch of kids [January 10, 2012]

Children aged 12 and under will be the only supporters admitted to next week's cup tie replay between Amsterdam's Ajax and AZ of Alkmaar, the football association said on Tuesday.




But one adult per six children will also be allowed in - in a supervisory capacity.

Ajax had applied to allow women and children watch the match, while there were also calls for gays to be admitted.

'In order to emphasise the educational character of the match,it has been decided to limit admittance to children,' the KNVB said in a statement. Calls to admit women but not men would have fallen foul of equal opportunities legislation, the association said.

The KNVB ordered the match to be replayed behind closed doors after the original tie was abandoned when an Ajax supporter tried to attack AZ's keeper.

This Amsterdam wonders if the KNVB has ever witnessed the havoc that can be wrought by a group of 11 and 12-year-olds? Still, at least the dads will be queuing up to do their bit for parental involvement in schools.
The latest news from the Netherlands