A compendium of things to know, things to do, places to go and people to see:
» Contact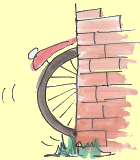 « Previous | Main | Next »

Dot Amsterdam [May 8, 2012]

Amsterdam city council has applied to buy new top level internet domain name .amsterdam, according to local broadcaster RTV Noord-Holland.

The council made the application to the international domain authority ICANN in Paris. The initial cost of .amsterdam will be €140,000 plus €13,000 a year, the broadcaster says.

The city, which at one point was considering giving every resident their own .amsterdam email address, plans to earn back the money by selling domains to companies.
The latest news from the Netherlands