A compendium of things to know, things to do, places to go and people to see:
» Contact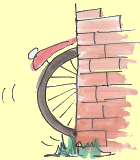 « Previous | Main | Next »

Too many festivals in Amsterdam? [June 3, 2012]

Miserable weather for the start of the festival season this weekend, but according to the Parool, festival finances are pretty miserable as well. So much so that special offers abound and the big dance events are allowing you to pay for your ticket by installment.

This weekend you could attend the Lente Kabinet or Nooderpark festival, the opening of the Vondelpark open air theatre season, and in two weeks time you could have gone to Heart Beat Boulevard, but that has already been cancelled because of poor ticket sales.

'Festivals are playing safe in these busy times,' Harm Groustra, of website festivalinfo.nl told the paper. 'You see Ilse DeLange, Guus Meeuwis and Kyteman in lots of different line-ups'.

So what is there to do in Amsterdam and surroundings this summer?

The I Amsterdam website has the complete list - and it is very long!
The latest news from the Netherlands