A compendium of things to know, things to do, places to go and people to see:
» Contact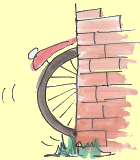 « Previous | Main | Next »

What tourists do in Amsterdam [July 5, 2012]

You might think it obvious, but the city's tourism bureau used the grand setting of the Concertgebouw to present its latest research into what tourists get up to in our fine city.

The questionaire was filled in by more than 10,000 foreign tourists, business travellers, Dutch day trippers and who-ever else got hold of it.

The findings? Most tourists come from just over the channel in Britain, followed by the Americans and Germans. Most are between 20 and 30 years old and give the city a whopping 8.1 marks out of 10.

They apparently like the atmosphere and the people (I'm citing from the Parool here) and have noticed a drop in crime and drugs-related problems since the last survey was carried out four years ago.

They are a busy lot as well, undertaking an average 10 activities during their stay, compared with six in the last survey. And two-thirds of them say the city's culture and history are reasons to visit, double the total in 2007.

What is also notable, the Parool points out, is that the tourists are more likely to visit the Red Light District and the drug-selling coffee shops than they were four years ago.Thirty-five percent of all visitors now do so, compared with 23% in 2007.

This might just be connected to the impending closure of the city's cannabis outlets, thanks to the government's misguided decision to turn them into residents-only clubs.

Expect an even bigger surge this year ...
The latest news from the Netherlands