A compendium of things to know, things to do, places to go and people to see:
» Contact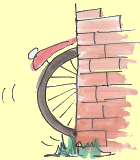 « Previous | Main | Next »

Amsterdam honesty [September 5, 2012]

Two days ago, my mate found a jacket lying on the cycle lane, complete with wallet containing 80 pounds, credit cards and all the rest. He took it to the nearest police station.

This afternoon, my older son found the wallet that he lost the day before untouched on the pavement outside his house, complete with bank cards, travel card and a few euros.

Nuff said really.




The latest news from the Netherlands