A compendium of things to know, things to do, places to go and people to see:
» Contact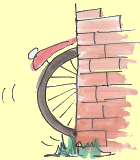 « Previous | Main | Next »

Roger Federer in Westerpark? [September 8, 2012]

The Parool reported on Wednesday that world number one tennis player Roger Federer has decided to play for Switzerland in next weekend's David Cup matches against the Netherlands - in Amsterdam's Westerpark.

The Davis Cup organisation's own website said earlier in the week Federer had not yet decided whether to play in Amsterdam. But the Parool is certain he will be in town to help Switzerland reach the World Group section of the competition.

'He's taken his time, but yesterday it became known that Roger Federer is coming to Amsterdam after all,' the paper says.

Spoilsport

Dutch team captain Jan Siemerink told the Parool he hoped Federer bows out. 'Without him, our chances of reaching the World Group are much higher', he is quoted as saying.

The stadium, which has been

constructed in the park

specially for the event, has room for 6,000 supporter and there are still tickets left for the weekend matches.

Some people have already asked if they can have their money back if Federer does not show up. That, says the Dutch tennis association, is not the case.
The latest news from the Netherlands