A compendium of things to know, things to do, places to go and people to see:
» Contact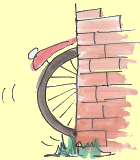 « Previous | Main | Next »

Just rushed out to buy sweets for Sint Maarten [November 11, 2012]

Eek. Almost forgot. And there is nothing so awful as hiding in the back of the house upstairs because you forgot to buy any sweets in case Sint Maarten singers come by.

Last year we were very good. A lovely selection of organic lollies and mini boxes of Smarties. We were ready and willing to listen. The curtains were open, the house lit up warm and welcoming, and not one kid clutching a lantern came by.

So we got to eat the sweets while watching tv crime shows. And then regretted it after realising we'd eaten them all and felt like crap.

Now we have emergency rations - following a quick race to the supermarket by my nearest and dearest. He's come back with drop, all of it bloody horrible salty drop.

'That is so you won't have to eat it all and feel sick and guilty like last year,' he says smiling, and clutching a handful as he heads back to his office.

I hope no kids come by this year. I'm going to die of embarassment with nothing to offer but drop. And knowing someone else is going to end up eating the whole bloody lot himself.

Update 8.47pm. Not one kid, not one song and a better half who is now sneaking off to the kitchen every two minutes to grab another piece of drop.
The latest news from the Netherlands