A compendium of things to know, things to do, places to go and people to see:
» Contact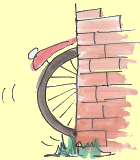 « Previous | Main | Next »

Scoop of the day: Amsterdam council to stamp out marijuana at school [December 12, 2012]

The Telegraaf had today's big newspaper scoop - Amsterdam city council is to impose a blanket ban on the smoking of marijuana in school playgrounds...

The ban will mean schools can involve the police if teenagers are caught smoking on school premises...

I'm not quite sure why schools have not already done this, and quite why school heads have so little control that they can't impose it without the strong arm of the law but there you go.
The latest news from the Netherlands