A compendium of things to know, things to do, places to go and people to see:
» Contact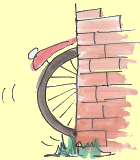 « Previous | Main | Next »

What on earth is this man talking about? [December 11, 2012]

Sometimes you'd think company bosses deliberately spout gobbledygook to confuse us all. Take Jan Bennink, supervisory board boss at Amsterdam coffee company DE Masterblenders.

He's commenting here on the state of the company following the news that the CEO is off after a year (possibly clutching as much as €7m).

'2012 was a transitional year for DEMB, as we began to implement our strategy of innovation and premiumization. The fundamentals we have in place today remain solid and we continue on track to deliver our objectives; to grow our total segment sales by 3 to 5% while improving our underlying EBIT margin by 150 to 200 bps in the first 12 months of fiscal 2013.'

Let's quickly skip over 'premiumization' (???) and 'EBIT margin by 150 to 200 bps'. But what sort of years do they have on Bennink's planet? The 'first 12 months of fiscal 2013' indeed.