A compendium of things to know, things to do, places to go and people to see:
» Contact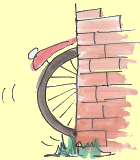 « Previous | Main | Next »

Let's get at The Hague [January 2, 2013]

Perhaps the powers that be in The Hague can make it their New Year resolution not to send out any more 'peace messages' like this one:

No idea who actually came up with this little gem... but this would appear to be The Hague city council's Peace Statement 2013

When will peace and justice embrace one another?

Dreaming of peace, where is this "peace"?
"Justice" for you, but also for me!
Times of war, injustice and helplessness.
Dreaming of peace, when will we wake up?
See the war, see the injustice!
Reach out and be counted!
Dare to live and dare to dream!
I want to live in a world of Peace and Justice.


Oh boy... perhaps there is a reason why the author is not named.
The latest news from the Netherlands