A compendium of things to know, things to do, places to go and people to see:
» Contact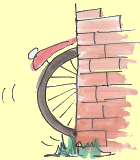 « Previous | Main | Next »

Nuisance neighbours are the Amsterdammers' biggest bugbear [January 9, 2013]

Amsterdam police get more complaints about problems caused by neighbours than anything else, the Parool informs us on Wednesday.

Last year the police received 12,585 complaints about neighbours, more than the number of complaints about tramps, drugs, drink and youngsters, the paper says. You'd think that the drugs, drink and the youngsters hanging around looking menacing in hoodies might possibly be connected to the neighbours themselves as well - but there you go.

Still, are the powers that be taking the problems seriously enough? Only 15 households were evicted from their homes because of the problems they caused for the people living around them, according to official city figures.

But perhaps moving them on to be someone else's neighbour from hell is not exactly going to solve the problem either. Hope is at hand. The city council has already pledged to take action this year. Mayor Eberhard van der Laan caused quite a stir in November when he said caravans in isolated parts of the city could be the answer for the worst offenders.

Perhaps no solution for the man with psychiatric problems in Noord who died yesterday after setting his house on fire. He'd threatened to do it in June - worrying his neighbours terribly - but although he spent a few hours in the cells, he was soon allowed home.

Yes, a nuisance neighbour (and included in the Parool article), but surely someone in need of a lot more help than a police visit and a potential eviction?

Today's Parool is big on statistics that raise more questions than they answer. The other front page story headlines on the fact that there are two sex crimes in the city every day. Of the 681 police complaints, 52% concerned 'simple' sexual assault, 32% rape and 14% child abuse.

Over 200 rapes a year in Amsterdam? Sounds astonishingly high. And, says the paper, the police think this is a serious under-estimation.

Then I get to the end of the article, which says the report is based on complaints of sexual assault made in 2007 and 2008. And then I think... they've got no more up-to-date figures to work with? And then I don't know what to think about the article at all any more.
The latest news from the Netherlands