A compendium of things to know, things to do, places to go and people to see:
» Contact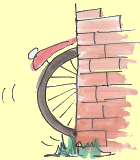 « Previous | Main | Next »

So how much would you contribute to the crownless coronation? [February 28, 2013]

Sometimes the evening paper - in our case, Het Parool - makes you so angry you are forced to drink a third gin and tonic.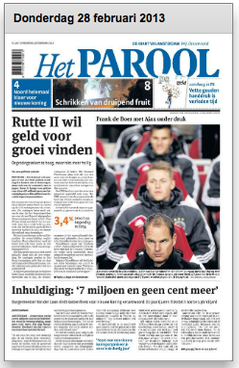 You come home from work and sit down for a relaxing drink before dinner and you pick up the paper. Aside from Ajax' rather ignominious defeat in the Dutch Cup by AZ - a whole host of stories today were enough to encourage indigestion.

The worst was an interview with the lovely mayor Eberhard van der Laan about the cost to the city of celebrating the coronation, sorry investiture, of Willem Alexander as king.

The cost will be €7m and not a cent more, Van der Laan said, pointing out the the last royal wedding in Sweden cost €25m and Elizabeth's diamond jubilee in Britain last year a whopping €1.36bn.
I may be a republican, but there is something horribly small-minded about the €7m budget and the hunt for sponsors. Will Willem-Alexander and his girls be clad in outfits emblazoned with ABN Amro or KPN?

At least the city centre's shopkeeper's association showed some guts when the mayor suggested they might like to stump up some cash.

'I don't think so,' said chairman Guus Bakker. ' For a start, shopkeepers are having a tough time of it. But it is also a question of principle. The queen has enough money and so does the government.'


The latest news from the Netherlands