A compendium of things to know, things to do, places to go and people to see:
» Contact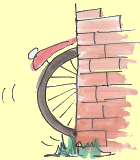 « Previous | Main | Next »

Apple juice alert: Amsterdam revises its stop and search rules [May 17, 2013]

So, the bright sparks in city hall have decided the rules on stop and search - the draconian powers given to the police to pat down everyone in 'at risk areas' for weapons - need to be changed.

There was, says the Parool, a stormy debate in the council offices today, as the mayor pitched in with plans to excempt some people from the stop and search procedures - because it is just too distressing.

Take the case of the 80-year-old man who was searched as he arrived at central station. Or the family whose children were drinking apple juice and got upset when mum and dad were searched. 'I don't want this to happen any more,' the mayor is quoted as saying by the Parool.

Indeed, how could you search people who feed their children something as innocent and wholesome as apple juice? Now if it was cheap own-brand cola - well that would have been quite a different story.

The debate, says the Parool, was sharp... with GroenLinks saying the way Moroccan lads are always singled out from their white friends to be searched is equally distressing.

Still, thanks to the new rules, some of the inequities have been removed from the system - making it even more unfair on those who are left behind. Middle-aged men with briefcases, teenage girls with short skirts and tiny tops, people walking dogs.... who will be next to get a 'get out of a pat down free' card?

In the meantime, you know what you have to do if you want to smuggle a gun into a forbidden part of town. Disguise yourself as a old man, borrow a granddchild, feed it apple juice and you can get away with murder.
The latest news from the Netherlands