A compendium of things to know, things to do, places to go and people to see:
» Contact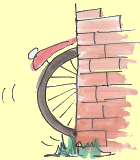 « Previous | Main | Next »

Holland, sorry, Amsterdam. The Original Cool? [May 17, 2013]

They've just released a lovely new promo video for Amsterdam, sorry the Netherlands, entitled 'Holland. The Original Cool'.

The lads and lasses in our office told us we are not allowed to make fun of it because the aim is not to attract us to Amsterdam as we are already here. We take their point.

So please watch the video first with an open mind and then we can tear it to pieces afterwards.

We like the way it starts off with all the cliches at the beginning - flowers, windmills, canals, cheese, wooden shoes (why not clogs?) and then 'master paintings' what ever they are.

Then we get this smug twerp saying 'yes, yes, we have it all' with mock enthusiasm. 'Let me show you what is really cool about Holland.'

'You call it organic or artisanal - we just call it food,' he says voicing over delicious looking eats. A bit rich coming from the country that invented the whole-in-the-wall snack bar (Febo) and is one of the biggest factory farmers in the world. That's not to mention the horsemeat beef and fake free-range egg scandals.

Still, if you swallow that, you won't mind that 'you call it boutique and elternative, we call it the nine streets'. No you don't. You call it the Negen Straatjes, and yes, he does say elternative.

We get the obligatory bike bit and then he asks if we noticed he is speaking English because 'we all do'. Duh! A whizz through the Rijksmuseum, a blast of alternative energy and then the clip ends with a massive plug for Schiphol airport and KLM.

Surprise surprise. Well, they are two of the four sponsors after all, and the video is an advert, not a serious attempt to sum up the Netherlands in two minutes and one second.

Mind you the city marketing department might not be too impressed with the YouTube debate which seems to focus on all the things the video left out, particularly the red light district and the weed.
The latest news from the Netherlands