A compendium of things to know, things to do, places to go and people to see:
» Contact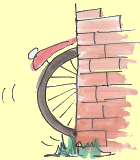 « Previous | Main | Next »

Forget Inferno - you need the Seven Deadly Dutch Sins [May 22, 2013]

We were at the premier of the new Boom Chicago show The Seven Deadly Dutch Sins last night. Loved it.

Even our Dutch friend raised a smile - and you know how the Dutch don't like people poking fun at them.

True to form, there were of course chunks of cheese and liver sausage as hapjes.

A couple of weak moments, but for the most, a blast and very, very true. Even if we have never witnessed willy-waving in the gym. 'Ja hullo,' said very loudly and with great indignation has never sounded better.
The latest news from the Netherlands