« Previous | Main | Next »

Fellow foreigners, we can vote: Amsterdam politician of the year [May 24, 2013]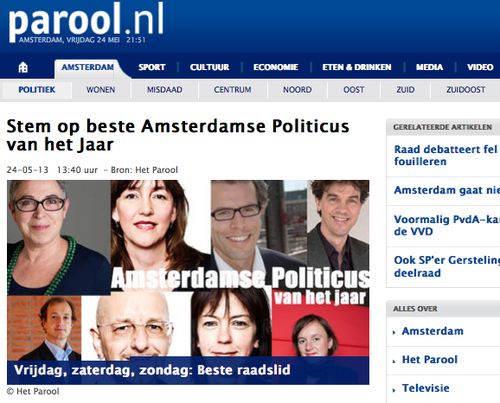 So, here they are, the candidates for the Parool's Politician of the Year competition.
We may not be able to vote in the national elections - despite paying masses of taxes - but we sure as hell can have our say about the bright sparks of city hall.
So, who is on the ballot form?
The candidates for best city councillor are:
1. Fjodor Molenaar (GroenLinks) - never heard of him, so he does not get our vote. Apparently big on bikes. Does not appear to have a job, apart from the city council, judging by his LinkedIn profile.
2. Marja Ruigrok (VVD). We've spotted her on the back of a bike in a fantastic bright pink coat. Runs a successful market research bureau as well as being a city councillor.
3. Maureen van der Pligt (SP) - never heard of her either. Apparently big on real people, not abstractions, says the Parool. Does not appear to have another job. Likes the Rolling Stones and Nirvana and cycling holidays, according to the city council website.
How can we chose? Pink coats rule okay.
Next on the ballot form: The candidates for borough council leader of the year are:
Oh dear - two of the three are part of the conspiracy to force a new waste-of-money underground car park on the good folk of the Nassaukade and its surroundings.
Jeanine van Pinxteren (Centrum, GroenLinks) and Martien Kuitenbrouwer (West, PvdA) - you do not get our vote.
So that leaves Thijs Reuten (Oost, PvdA) - never heard of him either, but he is all we have left.
And as for Best Alderman...
They could only find two candidates.... Bit weird that. So it's a toss up between Eric Wiebes (VVD, transport, air quality and IT) and Peter Hilhorst (PvdA, finance, eduction and youth).
Hilhorst - an ex columnist for the Parool itself - has only been in the job for a few months, so who knows how he is faring? He might have serious jobs like education and finance but, then, how can he compete against an alderman for air quality?
Unfortunately, some bug in the Parool's system means you can't actually vote online until Monday - shame about the massive campaign the paper launched on Friday to get people to do their bit for local democracy.
But then, Wiebes is also alderman for IT - conspiracy theorists unite...