« Previous | Main | Next »

Young Amsterdam men are smoking hot... actually they are just smoking [July 10, 2013]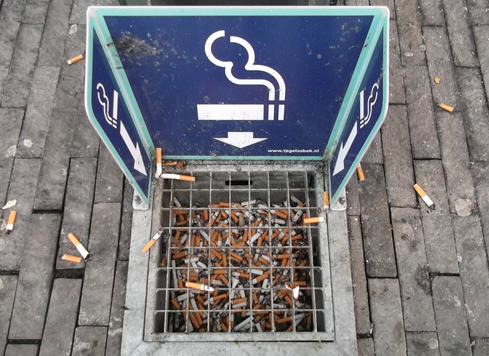 The abject failure of the Dutch anti-smoking strategy - as embodied in the decision to allow the customers of small bars to carry on puffing away - has had a terrific effect on smoking in Amsterdam.
Five years ago, when the ban was introduced, 29% of the city's 19 to 34 year olds were smokers, but this has now gone up to a whopping great 35%, according to Wednesday's Parool.
Researchers say there has been a rising line in smoking among clubbers and cafe goers - all places where smoking is supposed to be out of the question.

But the failure to enforce the ban, the 'lets make a compromise' exceptions to the law and the lily-livered attitude of ministers up until now have allowed the nation's teens and twenties to carry on smoking regardless.
What is the attitude of city council to this sorry state of affairs? The alderman in charge of health, Eric van der Burg told the paper that Amsterdammers are 'largely' responsible for their own health.
Instead, the lovely Eric is focussing on reducing obesity among children - even though most reasonable people would consider that to be 'largely' the responsibility of parents.
Fat kids or trendy clubbers posing with a Marlboro... We know where the votes are. So no choice really.
The cabinet is planning to get tougher on smoking in July 2014 by changing the law so all cafes and bars and clubs will have to be no smoking - unless they have a separate sealed-off smokers area.
Again a crappola compromise that fails to send out a real message: Smokers have more money than sense because it is expensive (perhaps not expensive enough) and horribly bad for you.
Perhaps the photograph at the top of this entry is the best illustration of the whole sorry mess.
Someone has gone to the trouble to invent an underground ashtray - to make it possible for the lovely young professionals who work at Amsterdam's World Trade Centre to indulge their habits without inconveniencing the rest of us - and messing up the street outside the front door.
But even when it is made that easy to dispose of your fag end, the considerate ciggie addicts of Amsterdam can't be bothered to do it right.