A compendium of things to know, things to do, places to go and people to see:
» Contact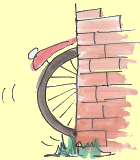 « Previous | Main | Next »

Amsterdam Noord aldermen run up a €38,000 taxi bill [October 24, 2013]

The four good aldermen of Noord borough council in Amsterdam have been given a nice present by thoughtful consitituents - four second hand bikes. The reason for this generosity? The fact they ran up a taxi bill of €38,000 last year.

Amsterdam may be big on bikes but in Noord, it seems, officials prefer to take a cab. Among the details uncovered by RTL news using freedom of information legislation - a fee of almost €500 for a meeting in Deventer?

Most of the taxi trips taken by the borough's four aldermen, however, are for the 5km journey between Noord's offices and city hall - for which IDS Quality Driving charges a whopping great €55. Some aldermen make the trip three times a day - that's €330.

Now this might seem expensive but, according to the borough council, IDS came out best when the taxi trips were put out to tender way back in 2006. Slightly odd seeing as Kamer van Koophandel records say the firm was founded in 2008. Nevertheless, it might be time to award a new contract?

But then, IDS is not a common or garden taxi firm. It employs chauffeurs and offers an 'ideal service for directors, managers and other business people who want to prepare for their next meeting undisturbed in the back of a car'. Ah, that explains it then.

And it does not seem as if Noord is planning to make any changes. Other methods of transport take too long, the council said in a statement.

And the bill so far this year? €23,000 up to the end of August. So the final bill may be slightly down on 2012 then? Government cutbacks are obviously having the right effect.


The latest news from the Netherlands