« Previous | Main | Next »

How to park your car in Amsterdam [November 22, 2013]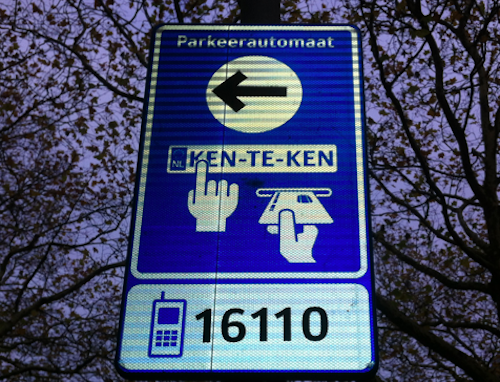 We just love this sign, which explains in such clarity how to pay to park you car in our part of Amsterdam.
Amsterdam prides itself on the way it leads the world in parking payment technology. Forget stuffing euros in a meter, forget getting a paper ticket to stick behind your windscreen.
This sign explains all you have to do instead.
You park your car and then you find the nearest parking meter which may be a quite a distance away. Then you... well then you type in your KEN TE KEN. That is, as this artfully-thought-out little illustration shows us, your NUM BER PL ATE.

If like me you can never remember it, you walk back to the car to find out the number and then back to the meter and start all over again. You may find yourself doing this several times because you haven't got a pen on you.
Then you dig out your credit card or a direct debit card and use your pincode to pay for however long you think you might need. No cash - too tempting for thieves and someone has to count it. Or you can pay by mobile phone - that's the secret code at the bottom.
You may spot groups of confused tourists standing round one of these hyper-modern meters repeatedly trying different cards in an effort to make the damn thing work. If they've got as far as putting in the NUMB ER P of their hire car, that is.
Then when you've done all that, you may well find yourself waiting 15 minutes for the ticket that doesn't come. No ticket. No wasting paper and allowing people to pass on unused minutes to the next driver here. That illustration of someone taking a ticket out of the slot is actually someone inserting a payment card. Sorry.
The traffic wardens, those charming folks on scooters, check up on whether or not you've paid by looking in a little computer which shows them all those oh so essential NU MBE R plates.
Hey, its a brilliant system. Not only does it save on paper and coins, but the council gets to know who parked where and at what time. And I am sure they find lots of nice little uses for that bit of privacy sensitive information as well.