« Previous | Main | Next »

So this is what the council meant by upgrading the Damrak [November 28, 2013]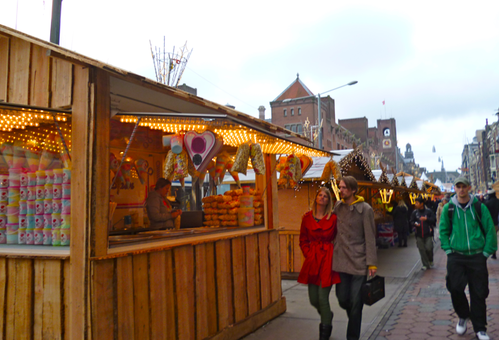 Aaaaahlright. So its the end of November and we are really into the Christmas spirit here in jolly old Amsterdam.
Forget Sinterklaas and the enigma that is Zwarte Piet. The great gods of the city council are spending millions on making the Damrak the posh red carpet route into the city and this - yes these garden sheds with Christmas lights - is what they have come up with.
We had a little stroll down past all these lovely stands full of Christmas wares - sorry full of tourist cheese and nasty Dutch and English sweets and Italian jewellry, horrible English crockery and horrible-looking chocolate tools - €8 for a small chocolate spanner anyone?

Then there were the two large stands manned by English lads grilling German bradwurst over charcoal at 11 in the morning... and don't forget the Dutch bars with the Andre Hazes music whining away. Beer under bits of fir tree and garden centre lighting mid-morning. We just love that Christmas spirit.
Seriously guys. What is this all about?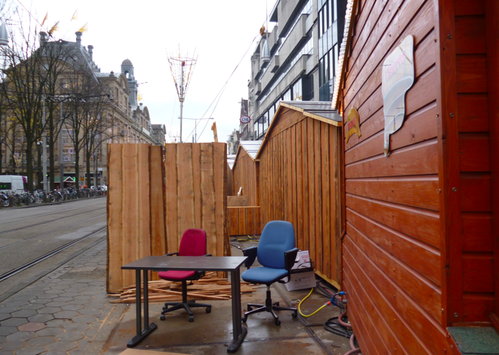 This was our favourite view of the whole experience - the back side of the lovely Christmas or whatever market.

The office chairs and the pile of discarded pine wood planks looking out onto the tram tracks... so festive, so appealing to tourists. After all, if Germany can stage Christmas markets, why not Amsterdam.
Nederland nul points.
Whoever came up with this brilliant idea to tart up the city centre for a couple of weeks should be packed into Zwarte Piet's sack and dragged off to Spain.