« Previous | Main | Next »

PvdA in trouble, VVD sells deals: yes, it's local election time [December 16, 2013]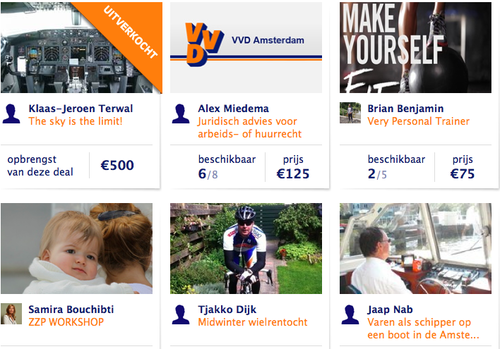 With three months to go, Amsterdam's political parties are gearing up to fight the March local election. Well, they do say a week is a long time in politics... so anything can happen.
The PvdA must be hoping for just that. Monday's Parool opens with the dramatic story that the PvdA are heading for a 'dramatic' election loss in the vote.
For the first time in decades, the party is likely to emerge as number two on Amsterdam city council, after dominating the local council the post war years.

According to a Maurice de Hond poll, the PvdA is on target to win nine seats, compared with its current total of 15. And D66 are set to overtake it by going up from seven to 10 seats to become the biggest group.
Now it is a poll by Maurice de Hond, who is notoriously unreliable, and it is only based on 800 people, but it is a sign that the good people of Amsterdam are not exactly pleased with the mighty Labour party.
The poll was of course taken before this weekend's wonderful comma not full-stop benefit scandal erupted. This is the story of how what appears to be a computer error meant nearly 10,000 of the city's poorest were given thousands of euros in extra 'housing' benefit rather than hundreds.
For some reason, the council paid out some people €15,500 instead of €155.00. In Dutch terms that would of course be €15.500 rather than €155,00. Perhaps a British software engineer is responsible.
Whatever, some sneaky folk have already spent the money or taken it from their bank accounts. The council has gotten the money back, meaning some folk are now rather overdrawn - who is going to pick up the tab for this mess remains to be seen.
That aside, the city's VVD are doing a little fund raising of their won. The city's liberal councillors are 'selling deals' - no not drugs. But they've built a lovely little website Amsterdam.verdienthet.nl allowing you to bid on special offers.
For example, the always charming deputy party leader Marja Ruigrok is offering a guided tour to the city's best shoe shops, with a drink thrown in, for €60.
Council candidate Martijn Boer is offering to clean up your clothes cupboards for €60 which is equally worrying. Dylan Yesligoz is offering a chance to drink raki and discuss politics until the cows come home and Werner Toonk will take you sailing on the Ijsselmeer.
Alas the most interesting deals are already sold out. However, Brian Benjamin, who is offering to be 'your very personal trainer' for €75, still has a few places to go. We are slightly concerned about what he means by 'very'.