A compendium of things to know, things to do, places to go and people to see:
» Contact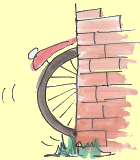 « Previous | Main | Next »

Ding dong.... [April 12, 2010]

She's gone. Ageeth Telleman, the twit who said yes no yes no yes to forming a coalition with the PvdA in Amsterdam after the local elections has stood down. Or was pushed... the party has now taken a vow of silence. Nobody is saying anything. Probably in the hope that Labour might invite them back to the negotiating table for the third time.

The latest news from the Netherlands