« Previous | Main | Next »

Your roots are showing [December 2, 2010]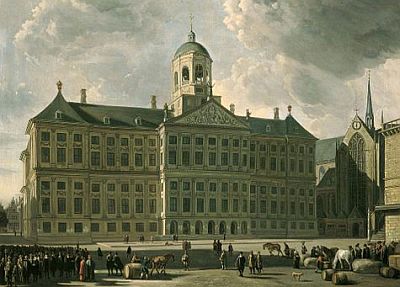 Thursday's Parool informs us that work on cleaning up queenie's palace on the Dam is well under way and that fears the building may end up a uniform blonde colour are unfounded.
Apparently, the experts have carefully assessed 25,000 blocks of Bentheimer sandstone for colour and treated each one differently to ensure the palace does not end up looking uniform.
However, the crowning glory on all this careful work, which has taken over a year so far, is not going to be the bell tower. It has has been cut out of the rennovation project and remains in its untouched state.
The reason? The €40m budget to clean up the palace had to be cut by €6m and that meant the bell tower had to be left as dirty as it was. Efforts to find the extra cash - largely needed to fund the construction of circular scaffolding - have so far failed.
You would think that queenie herself could have stumped up the difference, but alas so far she has kept her hand tightly on her purse.
Bus off
Lack of cash is also set to hit the city council when the new government presses ahead with forcing us Amsterdammers to put our public transport system out to tender.
The council doesn't want to and we voted against it in a referendum several years ago, but transport minister Melanie Schultz van Haegen says we've got to do it anyway.
To make sure the council really has no option, SvH has decided to cut the money she gives Amsterdam, Rotterdam and The Hague for public transport by €120m, so says the Parool This, she says, is what the councils could be saving if they had allowed private companies to take over their tram and bus services.
But that figure is based on a five-year old report, and ignores the great efficiency strides which the city has already taken, according to council officials at least.
Perhaps she could donate a little bit of the money to the queen's palace rennovation project?